Oh, 2014. I have such faith that you will be my year. So far, so good, right? Here are the five highlights of my past week in pictures:


Our indoor farmers market is on a bit of a hiatus until February, but the true die hards are staking a claim outside. My dad (the homeless looking guy right there) sells his coffee every weekend and I've been spending my Saturday mornings with him for the past few weeks. It has been a seriously awesome time and I have met some really cool people. Buy local! =)


This is our year, 49ers fans! There is nobody I'd rather watch the game with than my little (well, younger, he's 6'2" so not exactly little…) brother. Plus check out my adorable outfit! Team sprit! Trailand said my shoes are shy we won. I'm not gonna argue.


I have been to a LOT of movies recently. I think American Hustle has been the favorite, but also really enjoyed Her and The Secret Life of Walter Mitty. But oh man oh man I am so excited for the next Xmen movie! Such a great franchise. Such a great cast. I'm such a nerd.


My 2014 reading challenge is off to a decent start. I'm reading 2 really great books right now, Oryx and Crake by Margaret Atwood and The Southerners Handbook by the editors of Garden and Gun. Trying to read more quality books this year, please leave me some recommendations in the comments!



And on a less high and mighty note, I am still very addicted to Pocket Frogs. It's the cutest app of all time, plus it fulfills all my hoarding/collecting tendencies without actually amassing any extra stuff. Look at those adorable frogs. Just look at them.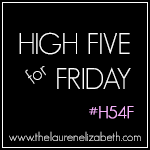 I'm lining up with Lauren Elizabeth for High Five for Friday. Hope you all have a marvelous weekend!